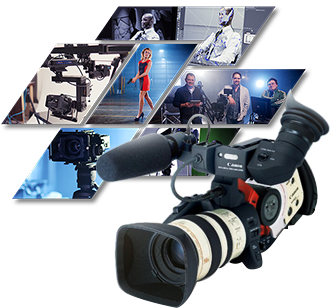 "We believe that a wedding is a journey of not only the person getting married but also of all those people who are attached to him or her in some way or the other and of all those who helped him/her in becoming who he or she is. Its an overwhelming narration of the past and the sparkling light of the delightful future of the bride and the groom all packaged in a "LARGER THAN LIFE" magnified imagery extravaganza and hence needs the special cinema style filming filmed by not just a wedding videographer but an experienced Wedding Cinematographer."
"We shoot using high end sophisticated equipments such as jibs, sliders, tracks, glide cams and rigs. The recordings are done on DSLRs such as Canon 5D Mark II or 5D Mark III. For every wedding, we have a chief cinematographer and depending on the number of guests and the scale of the wedding, several directors of photography. After the shoot, we normally take a month's time to do the editing which is again done under the supervision of our cinematographer. Depending on your budget, you can choose from a short trailer, a documentary or a full blown wedding cinema"
"First of all when we say that we will be making a wedding cinema, think about it as a professional movie starring you and your partner. It is entirely different from a regular wedding video which you must have seen every where else. It has all those important elements which a movie has, such as a song and dance sequence ( if you don't have such an event planned for your wedding then don't worry, we are experts in organising an impromptu sequence ), interviews of the bride, groom, their parents and all important family members ( this is the most important element and you can see the videos above to find out why), pre wedding couple shoots and anything else you want to savour for eternity."